Commercial Crawl Space Encapsulation & Repair in the Central Valley Modesto to Fresno
Your expert contractor for solving crawl space moisture issues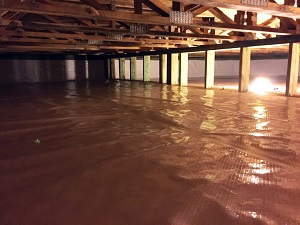 Installing a vapor barrier on the crawl space walls and floor can prevent mold and other crawl space issues.
Crawl space problems can affect the safety, indoor air quality, and energy efficiency of your entire building. If your building has a crawl space that needs to be repaired, we can help. Foundation Support of CA uses only the best patented products to fix crawl space moisture and structural problems in multifamily buildings and commercial properties in the Central Valley Modesto to Fresno.
To speak with one of our specialists about your commercial crawl space repair project, call us at 1-855-376-3221 or click the button below to request a quote.
Common crawl space problem signs
If you notice any of the following issues, you should consider crawl space repair:
Mold on baseboards
Cracks in interior drywall
Uneven and/or squeaky floors
Musty odors in the living space
Aggravated allergies or asthma
Proven patented solutions for a dry, healthy crawl space
At Foundation Support of CA, we offer the patented CleanSpace® Crawl Space Encapsulation System®, developed by Basement Systems, Inc., the world leader in dry, below-ground technology. The CleanSpace® encapsulation system helps reduce the humidity level in the air, which when combined with sealing outside air and dehumidification, will eliminate mold growth and rot from the crawl space. In addition to moisture control solutions, we can also solve structural problems, including floor joists that have sagged, with SmartJack® crawl space stabilizers.

Get a quote for your crawl space repair project
Call Foundation Support of CA to discuss your crawl space repair needs. We will provide an on-site inspection, professional consultation, and written price quote.
Looking for a price? Get a no cost, no obligation free estimate.